Acknowledging those who contributed to your thesis is a gracious gesture, reflecting your appreciation for their support, both moral and material. This article delves into the art of crafting a meaningful acknowledgment in your thesis, highlighting its importance, and offering valuable samples.
Tips on Writing Acknowledgement for Thesis
Sincerity is Key: Ensure your acknowledgment reflects genuine gratitude.
Be Specific: Mention names and their roles clearly.
Professional Tone: Maintain a formal but heartfelt tone.
Brevity Matters: Keep it concise, focusing on key contributors.
Best Acknowledgement for Thesis Samples
In this article, you'll find ten meticulously crafted thesis acknowledgment examples, showcasing diverse styles and sentiments to help inspire your own. Whether it's mentors, family, or colleagues, you'll discover the perfect way to convey your gratitude.
Acknowledgement Sample for Thesis
I extend my sincere appreciation to everyone who played a role in guiding and supporting me throughout this thesis journey. I owe a special debt of gratitude to my thesis supervisor, Dr. [Supervisor's Name], whose invaluable insights and guidance were instrumental in shaping this work. Their unwavering dedication to academic excellence was a constant source of motivation.
I must also express my heartfelt thanks to my family and friends who provided me with unwavering emotional support during the ups and downs of this project. Your unwavering belief in me, along with constructive feedback, was essential in navigating the challenges that arose throughout the process.
Acknowledgement for Thesis Submission
As I submit this thesis, it's only fitting to express my heartfelt gratitude to those who contributed to its realization. My deepest thanks to my thesis advisor, [Advisor's Name], whose expert guidance and unwavering support made this journey possible. Their dedication to nurturing academic excellence inspired me throughout.
I'm also indebted to my family and friends for the unwavering encouragement and emotional support they provided during this academic endeavor. Their steadfast belief in my abilities carried me through challenging times, and I am deeply appreciative of their contributions to my success.
Acknowledgement for Thesis Report
The completion of this thesis report is a significant milestone, and it wouldn't have been attainable without the contributions of many. I am profoundly grateful to my thesis supervisor, Dr. [Supervisor's Name], whose expertise and guidance were critical in the development of this work. Their unwavering commitment to scholarly excellence served as a constant source of inspiration.
I also wish to convey my appreciation to my family and friends for their enduring support and encouragement throughout this journey. Their belief in me provided the motivation to persevere during challenging periods, and I am truly thankful for their unwavering support.
Beautiful Thesis Acknowledgement
In this moment of achievement, it's essential to express my gratitude to those who made this thesis journey beautiful. I extend my deepest appreciation to my thesis mentor, [Mentor's Name], whose profound wisdom and continuous support have transformed my academic path. Their unwavering dedication to academic excellence was a shining example.
My heartfelt thanks go out to my family, friends, and loved ones, who have been a source of motivation and joy throughout this thesis project. Your unwavering belief in me, combined with your uplifting presence, painted this journey with beautiful colors and made it truly remarkable.
Acknowledging God in Thesis
As I complete this thesis, I wish to acknowledge the divine presence that guided me throughout this scholarly endeavor. My sincerest gratitude to the Almighty for granting me the strength, wisdom, and determination to bring this work to fruition. I acknowledge the blessings that have enabled me to pursue knowledge and produce this thesis.
Funny Thesis Acknowledgement
Completing this thesis was no easy feat, and I'd like to offer a lighthearted acknowledgment to those who contributed to the humor in this journey. My gratitude goes to my witty friends, who provided comic relief during stressful times, and my family, who managed to lighten the mood when needed. Laughter truly was the best medicine!
Acknowledgement in Thesis Writing
Acknowledging the completion of this thesis is a momentous task, and I want to express my appreciation for everyone who played a role. To begin, I'd like to thank my thesis advisor, [Advisor's Name], whose expert guidance and patience were invaluable. Their wisdom and insights greatly contributed to the quality of this thesis.
I would also like to extend my gratitude to my colleagues and friends who offered support and encouragement. Their discussions and shared experiences enriched my work, and I'm grateful for their camaraderie.
Thesis Acknowledgement Sample
In writing this thesis, I've learned that acknowledgment is a fundamental part of scholarly work. With this sample, I aim to express my thanks to those who influenced and supported me. Firstly, I'm deeply indebted to my thesis supervisor, [Supervisor's Name], whose unwavering commitment to research excellence has been a guiding light.
Additionally, I would like to acknowledge the contributions of my peers and the resources offered by the university. Their combined efforts have molded this thesis into what it is today.
Example of Acknowledgement in Thesis
For your reference, here's an example of how acknowledgments can be included in a thesis. I am profoundly thankful to my thesis advisor, [Advisor's Name], for their invaluable support and mentorship throughout this research journey. Their guidance was instrumental in shaping the research's direction.
I also appreciate the guidance from my colleagues and the research resources that this institution provided. The synergy of all these factors, including my hard work and dedication, culminated in the completion of this thesis.
Sample Acknowledgement Letter for Thesis
Dear [Advisor's Name],
I wish to extend my heartfelt gratitude for your unwavering support and guidance throughout the completion of my thesis. Your expertise, patience, and commitment to academic excellence have been a cornerstone of my research journey. Your thoughtful feedback and constant encouragement have not only honed my skills but also enriched the quality of this thesis.
I'd also like to acknowledge the contributions of my fellow researchers and the resources provided by our institution. Their collaborative efforts and the wealth of research materials and opportunities available have significantly influenced the outcome of this thesis.
This acknowledgement extends to my family and friends, whose belief in my abilities and encouragement have provided the emotional sustenance needed to complete this challenging task. Their unwavering support has been my motivation.
With gratitude,
[Your Name]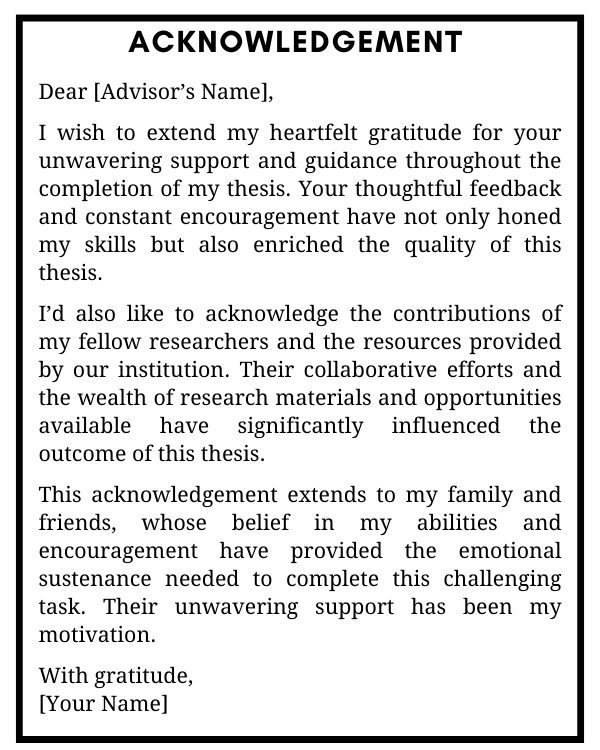 FAQ's
How to Write Acknowledgement for Thesis?
Writing an acknowledgement for your thesis involves expressing gratitude to the individuals and institutions that supported your research. Start by acknowledging your primary thesis advisor, followed by other mentors, colleagues, and family. Keep it concise and heartfelt, focusing on the contributions and support they provided. Remember to include any funding sources or institutions that aided your research.
What to Put in Acknowledgement Section of Thesis?
In the acknowledgement section of your thesis, you should express gratitude to the people and organizations who contributed to your research. This includes your thesis advisor, mentors, colleagues, and family. Be sure to mention any funding sources, grants, or institutions that supported your work. Keep the acknowledgements concise and focus on the assistance, guidance, and encouragement you received during your research.
What Are Some Thesis Acknowledgement Quotes?
"I can no other answer make but thanks, and thanks, and ever thanks." – William Shakespeare
"Gratitude is the fairest blossom which springs from the soul." – Henry Ward Beecher
"Acknowledging the good that you already have in your life is the foundation for all abundance." – Eckhart Tolle
"Feeling gratitude and not expressing it is like wrapping a present and not giving it." – William Arthur Ward
"In the end, we will remember not the words of our enemies, but the silence of our friends." – Martin Luther King Jr.
"Acknowledgment is the first step of paying it forward." – Robert Bach
Conclusion
An acknowledgement of thesis is more than just a formality; it embodies your gratitude and appreciation. As you explore the samples and gather inspiration from the tips provided, remember that thanking those who've played a part in your academic journey is not only courteous but also profoundly meaningful.