In the journey of academic excellence, Class 10 projects hold great significance, and expressing appreciation through acknowledgements becomes a heartfelt gesture. Here, we present five carefully crafted acknowledgement samples for Class 10 projects, designed to inspire and assist students in acknowledging the valuable contributions of those who supported them throughout their project endeavors.
5 Acknowledgement Samples for Class 10 Project
Here are best five acknowledgment samples for your class ten projects.
Acknowledgement for Class 10
This sample acknowledges the collective effort of everyone who played a role in making the project successful, including teachers, classmates, and family members:
I extend my heartfelt gratitude to everyone who has been instrumental in the successful completion of this project. Special thanks to our dedicated teachers and mentors, whose guidance and encouragement have been invaluable throughout the journey.
I am also grateful to my classmates for their cooperation and support.
Acknowledgement for Project Class 10
Tailored specifically for Class 10 projects, this sample expresses gratitude towards mentors and peers who contributed to the project's accomplishments:
I would like to express my sincere appreciation to all those who have contributed to the realization of this project. My heartfelt thanks to our project supervisor for providing us with valuable insights and feedback. I am also thankful to my friends and family for their constant encouragement and motivation.
This project would not have been possible without the collective efforts of everyone involved. Their contributions have truly made this project a rewarding experience.
Acknowledgment for School Project Class 10
This sample acknowledges the valuable guidance and support received from school authorities and teachers during the project's execution:
I am immensely grateful to my school and teachers for giving me the opportunity to work on this project. Their guidance and support have been pivotal in shaping the project's success.
I would also like to acknowledge the contributions of my classmates who have assisted me in gathering information and data.
Check more Acknowledgment samples for school projects.
Acknowledgement for Class 10 Project
In this sample, heartfelt appreciation is extended to friends and family members who provided assistance and encouragement throughout the project:
I extend my sincere thanks to all those who have helped me in completing this project. Special appreciation goes to my subject teacher for their valuable guidance and encouragement.
Additionally, I want to express my gratitude to my parents and friends for their continuous support and motivation.
Sample Acknowledgement for Project File Class 10
Designed for the project file, this sample recognizes the efforts of those who assisted in gathering information and organizing the project content:
This acknowledgment is dedicated to all the individuals who have provided valuable resources and assistance in creating this project file. I would like to thank my school authorities for their constant support and the library staff for granting access to relevant research material.
Their contributions have played a significant role in making this project comprehensive and informative.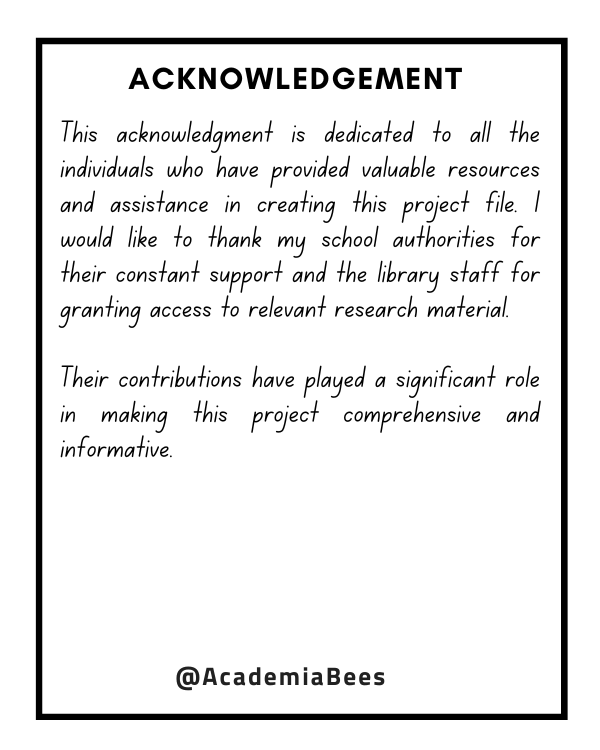 FAQ's
How important is it to include an acknowledgement in a class 10 project?
Including an acknowledgement in a class 10 project is essential as it allows students to express gratitude to all the individuals and institutions who have supported and contributed to the project's completion. It shows appreciation for the guidance, assistance, and resources received, acknowledging the efforts of teachers, parents, classmates, and others involved.
What should be included in an acknowledgement for a class 10 project?
An acknowledgement for a class 10 project should begin with a word of thanks and recognition for the individuals and organizations that have played a significant role in the project's success. It should mention the names of teachers, classmates, family members, and any other contributors who have provided support, guidance, and valuable resources.
Can I use the same acknowledgement for both the project report and project file in class 10?
While the overall message of appreciation can remain the same, it is recommended to tailor the acknowledgement slightly based on the specific requirements of the project report and project file. For the project report, you can elaborate on the support received from teachers and classmates, while for the project file, you can emphasize the resources and materials obtained from the library or other sources.
Conclusion
Acknowledgements in Class 10 projects offer an opportunity to express gratitude and recognize the teamwork and support that contribute to successful project outcomes. By using these sample acknowledgements, students can convey their appreciation in a meaningful way, leaving a lasting impact on those who contributed to their projects.